Why Commercial Pressure Washing Is The Right Choice For Your Business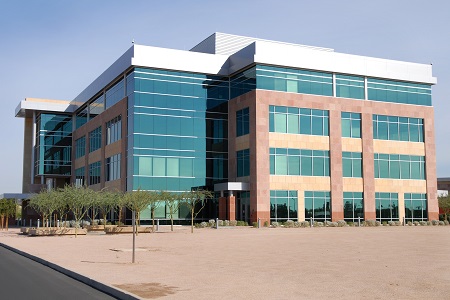 Commercial buildings are constantly exposed to the elements, man-made pollution, and foot traffic from visitors day in and day out. Your property has to take quite the beating, and eventually, it will start to show the effects of constant exposure and pollution if it isn't regularly cleaned.
Plenty of pressure washing companies offer specific commercial cleaning services to help mitigate wear and tear on commercial properties, offering building washing, parking lot cleaning, and more. But what is it about commercial pressure washing that makes it an ideal choice for your business?
Improved Curb Appeal
This is the most basic reason why most people with residential and commercial properties alike choose pressure washing services. Pressure washing is fast and effective, and it's able to get tough stains out of surfaces quicker and safer than many other cleaning methods can. It's easy to swiftly spruce up and rejuvenate dirty, tired surfaces with pressure washing, and the resulting curb appeal boost gives businesses a competitive edge.
Promotes A Cleaner, Safer Environment
Pressure washing isn't just about aesthetics. Mold, pollen, and bacteria are common occurrences on outdoor surfaces, and these substances can trigger allergic reactions, respiratory conditions, and other health issues. Frequently washing and sanitizing outdoor surfaces drastically reduces the presence of these harmful substances, particularly in extremely dirty areas like dumpster pads.
Pressure washing even has its applications indoors. Businesses with commercial kitchens need to consider fire hazards, and grease amassed inside a kitchen hood is a major hazard. Hood vent cleaning, however, is a quick pressure washing job that scours out trapped grease and eliminates the fire hazard! These are just a few examples of how pressure washing promotes a safer, healthier workplace.
Fewer Repairs, More Money Saved
The reason why exterior surfaces break down over time is due to exposure. They've got the sun beating down, the extremes of weather, and all manner of substances and pollutants being rained down on them. Algae and mold weaken and decay shingles and sidings, road salt and motor oil break down concrete and asphalt- even bird droppings, of all things, can eat through paint! Repair work is often very costly and disruptive, and property owners typically try to keep things from getting to that point.
Obviously, pressure washing isn't free. However, the money spent on pressure washing typically pales in comparison to the average costs of many repair services. Pressure washing preserves and protects surfaces by washing away corrosive substances and damaging microorganisms, halting damage before it can occur. It ends up being a money-saver- and when you factor in the other benefits you get with pressure washing, it's practically a no-brainer!
Choosing Your Commercial Pressure Washer
Of course, the responsibility of commercial pressure washing shouldn't be left to just anyone. It's crucial to choose a team that's licensed, insured, experienced, and well-regarded by the people they serve.
AceCo Commercial Services Group is proud to check all those boxes. We're committed to offering the best commercial pressure washing throughout the Huntsville area. If you need help with building washing, storefront cleaning, or any other commercial pressure washing services in Huntsville, call us today at 256-910-7669.
Call Your Local Hunstville Parking Lot Striping & Commercial Pressure Washing Experts Today!