AceCo Commercial Services Group Is Decatur's Top Pressure Washing Service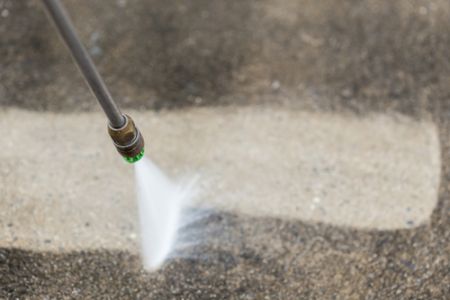 When it comes to pressure washing and parking lot services in Decatur, AceCo Commercial Services Group is the best in the area. From complete exterior cleaning to both soft washing and pressure washing, our company has provided only the most efficient cleaning methods to make your property shine. AceCo Commercial Services Group proudly provides pressure washing services in Decatur and beyond. Call us today at 256-910-7669 to request an estimate for any of our cutting-edge services.
Sidewalk Cleaning
Dumpster Pad Cleaning
Building Washing
Awning & Canopy Cleaning
Hood Vent Cleaning
Parking Lot Cleaning
Asphalt Sealing
Asphalt Patching
Parking Lot Striping
About Decatur
Decatur has historically always been home to industries of all kinds, and the local economy has only gone up as more and more major companies set up shop here. From engineering to manufacturing and everything in between, Decatur is a town that gets things done. We're here to help businesses of all types succeed and thrive in the competitive market and keep Decatur a strong working city.
Superb Parking Lot Striping And More For Decatur Businesses
As mundane as it may seem, good parking lot striping is crucial for a simple, safe parking lot. It ensures that visitors will have clear navigation, sufficient space to park their vehicles, and an organized layout with which to follow.
Whether you need brand-new lines painted for a parking lot under construction, or your need to restore fading or uneven lines on an older lot, let us know. We use high-visibility, weather-resistant paint and state-of-the-art equipment to perfectly paint your Decatur business's parking lot according to its design specifications.
Parking lot maintenance goes beyond just good parking lot striping, though. That's why we also offer:
Asphalt Patching
Asphalt Sealing
Parking Lot Cleaning
When you need help keeping your Decatur parking lot in good shape, we're here to help!
Top-Tier Commercial Building Washing In Decatur
Maintaining a professional and inviting appearance for your commercial facility isn't always easy. Both natural elements and man-made pollution work against you to dull and dirty your business' exteriors. Not only are they bad for curb appeal, but this mess can also speed up deterioration, develop into permanent stains, and otherwise damage the exterior of your facility.
Good commercial pressure washing counts, and businesses require maintenance that both improves their overall aesthetic appearance and extends their lifespan. That's why we recommend commercial property owners in Decatur invest in a proper building washing regimen for their businesses. Our cleaning washes, destains, and sanitizes exterior walls and sidings for a cleaner, sturdier, and professional-looking facility!
What is Pressure Washing?
Pressure washing is the process of using highly pressurized water, forcefully removing dirt, grime, stains, build-up, and anything it comes in contact with. This is very effective for cleaning hard surfaces. However, there are risks involved if you pressure wash the wrong surface. Pressure washing, which uses the aid of pressurized water to really break down tough to get to stains, streaks, and build-up, is ideal for hard surfaces on your Decatur property. Pressure washing works better than soft washing on the following surfaces:
Sidewalks and Walkways
Driveways
Dumpster Pads
Drive Thru Areas
Gas Stations
Parking Lots
Pool Decks
Any Concrete Surface
Sidewalk & Walkway Cleaning
If your sidewalks could use a little help in the looks department, then AceCo Commercial Services Group is the Decatur sidewalk washing company to call! You can count on our sidewalk cleaning pros to bring your sidewalks back to an incredible shine that will have you walking in the sunshine!
There are many benefits to getting your sidewalks and walkways washed on a regular basis, including:
Complete removal of stains, algae, and other grime that blight their appearance
Walkways that won't have any slipping hazards that could injure you or your visitors
A healthier environment because your sidewalks have been disinfected and sanitized
Protected sidewalks that won't crack, crumble or succumb to weather damage because corrosive substances have been eliminated
At AceCo Commercial Services Group, our sidewalk cleaning solutions are eco-friendly (although we still want to minimize the amount your plants absorb), but they're efficient at washing out pigmentation and oils embedded and your concrete, as well as killing off algae and mildew growths that make your sidewalk slimy and stained.
Pressure Washing vs Soft Washing
At AceCo Commercial Services Group, we take pride in the work we do, and we value our customers and their property. Not only do we understand the importance of making your property shine, but we also understand that you want it to last. We take pride in all of our customers in Decatur. This is why AceCo Commercial Services Group specializes in soft washing the more sensitive places of your property. Soft washing can be a solution that makes your property shine.
Soft washing is a process that uses low pressure to safely clean the exterior of your building. A solution with detergents, algaecides, fungicides, and other cleaning agents is applied to the surface at very low pressure (250-300 psi). As a result of cleaning solutions, everything gets risen off at low pressure within no time. Soft washing is more efficient than power washing. It's less time-consuming to clean delicate surfaces with soft water than with hard water.
This means that the job can be done faster and for less money! Plus, you won't have any leftover stains from using too much pressure, like what happens when using a high-pressure washing on your property.
Soft Washing specializes in carefully cleaning these types of surfaces around your Decatur property:
Awnings and Canopies
Vinyl Siding
Stucco
Cedar Shake Siding
Stained Concrete
Wood Siding
Pavers And Tiles
Areas Where We Provide Pressure Washing Services
We're proud to help our friends and neighbors to keep their businesses looking their best with our expert pressure washing services.
Ardmore, AL
Athens, AL
Birmingham, AL
Cullman, AL
Decatur, AL
Gadsden, AL
Guntersville, AL
Huntsville, AL
Madison, AL
Owen Cross Roads, AL
Why Choose AceCo Commercial Services Group As Your Pressure Washing Company In Decatur
We highly recommend that you don't attempt any dangerous DIY projects, especially when it comes to exterior cleaning your property. Many people in Decatur underestimate just how dangerous pressure washing can be. If you don't properly know how to wield a pressure washer, you could cause serious damage to your property. The high-force spray of a pressure washer can also cause serious injury.
We advise that you hire a trained professional instead. Here at AceCo Commercial Services Group, our services will save you time, money, and energy, all while avoiding these unnecessary risks. There are a lot of reasons why you should leave your exterior cleaning to the professionals, including:
Safety: Slipping is always a big concern when cleaning exterior surfaces. AceCo Commercial Services Group has the right gear to do the job safely.
Time: We do the job thoroughly but efficiently so that you can focus on other projects.
Equipment: There's no need to rent or buy a pressure washer or buy chemical cleaners. AceCo Commercial Services Group handles everything.
Experience: Too much pressure or incorrect technique can damage your property. We know the right settings for every material.
Plus, you'll have peace of mind knowing the job was done by the best in the business. If you'd like a free quote for your business, call us today!
Commercial Pressure Washing
When it comes to the size of buildings in Decatur, it can be difficult to wash and maintain a shine on some commercial properties. That is why AceCo Commercial Services Group is an expert in the exterior cleaning of all types of commercial properties. We specialize in all types of commercial properties and exterior cleaning, including:
Parking Lots
Restaurants
Gas Stations
Hood Vent Cleaning
Construction Clean Up
Exterior Property Washing
Concrete Cleaning
Decatur Businesses Trust Us For Hood Vent Cleaning
AceCo Commercial Services Group is the company to trust for hood vent cleaning services. Professional kitchen exhaust vent cleaning offers several benefits for commercial kitchens.
Firstly, it reduces the risk of fires caused by the accumulation of grease and other flammable substances.
Secondly, it improves air quality by removing smoke, fumes, and other byproducts of cooking. This ensures a healthy and safe environment for kitchen staff and customers.
Thirdly, regular cleaning helps to extend the lifespan of kitchen equipment, saving businesses money on repairs and replacements.
Lastly, professional cleaning ensures that your business complies with local regulations and standards, avoiding costly fines and potential legal problems.
Overall, professional kitchen exhaust vent cleaning is an essential service for maintaining a safe, healthy, and efficient commercial kitchen environment for your business in Decatur.
Call Your Local Hunstville Parking Lot Striping & Commercial Pressure Washing Experts Today!