Parking Lot Striping For Properly Cared For Huntsville Parking Areas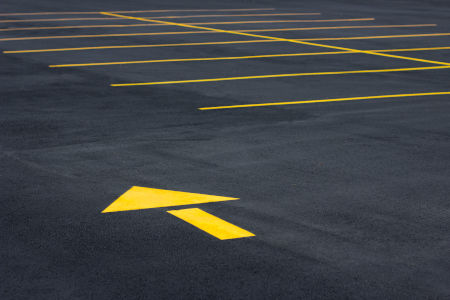 Without parking lot striping, a parking lot is just a blank flat-top with no indication of where to park or which way to drive- and bad parking lot stripes are almost worse than none at all! If you're trying to construct an excellent parking lot for your Huntsville property, choose the team that excels at precise, long-lasting parking lot striping- AceCo Commercial Services Group. We use cutting-edge precision line striping services to design clean, even lines and lay out an ideal design for your parking lot striping, providing your business's visitors with ample safe parking and clear directional markings for safe and efficient traffic flow.
Good parking lot striping is key for creating a safe and proper parking area for guests, and we hold ourselves to exceedingly high standards to ensure our work consistently excels. If you need cutting-edge parking lot striping services for your property in Huntsville or the surrounding areas, put AceCo Commercial Services Group on the job. Call us today to discuss your desired project and request a free estimate at 256-910-7669.
Painting Parking Lot Lines
Parking lot striping needs to measure up in a number of ways. Obviously, the lines need to be clean and even- rough, uneven markings make for a confusing mess. The markings also need to be clearly visible to drivers and ideally be able to resist fading and weathering from the elements. Additionally, most parking lots need certain features for legal compliance, such as designated handicapped parking spaces.
We know the standards that your lot needs to measure up to, and we aim to meet all marks.
To ensure our parking lot striping is precise, we use top-quality line striping equipment for pinpoint accuracy.
We use bold, bright paints that are designed to be weather-resistant and last for years without significant fading.
We also ensure that your parking lot is compliant with local and federal standards by painting fire lanes, handicapped parking areas, and other necessary features.
Other Professional Parking Lots Services
Even after your ideal parking lot has been constructed, it needs ongoing care and maintenance to ensure that it doesn't fall into disrepair. Here's what we can do for you!
Parking Lot Cleaning: As experts in pressure washing for Huntsville businesses, parking lot cleaning is an important part of the services we offer. From small parking lots to large multi-level garages, our state-of-the-art pressure washing equipment, and eco-friendly cleaning products will wash away dirt, oil, and other pollutants for a well-maintained parking area.
Asphalt Sealing: By sealcoating the asphalt, we give your parking lot an extra line of defense against moisture and other damaging elements, helping to prevent cracks and other forms of deterioration.
Asphalt Patching. While crack sealing can repair asphalt cracks, asphalt patching is needed to fix potholes and other larger forms of asphalt damage. Asphalt patching is quick, cost-effective, and a great way to maintain the structural integrity of your asphalt.
Call Your Local Hunstville Parking Lot Striping & Commercial Pressure Washing Experts Today!