Parking Lot Cleaning For Expertly Cared For Commercial Spaces In Huntsville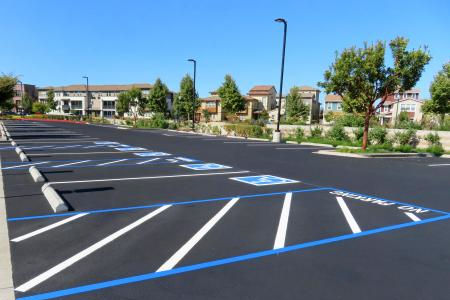 Keeping up with parking lot cleaning is tough when your Huntsville parking lot is always under duress from heavy traffic and exposure to the elements. That's why you can depend on AceCo Commercial Services Group to help you keep it clean. As a team committed to providing excellent pressure washing for Huntsville businesses, we've got what it takes to keep your parking lot looking great and help support its longevity with proper maintenance.
We use state-of-the-art pressure washing equipment and eco-friendly, EPA-approved cleaning products to efficiently get rid of oil, smog particles, gum, dirt, mold, and other harmful elements in your asphalt. The parking lot cleaning process leaves you with better-looking surfaces, a healthier environment for your visitors, and fewer pollutants to compromise the strength and integrity of your asphalt. If you need excellent parking lot cleaning for your Huntsville facility, AceCo Commercial Services Group has got you covered. If you're ready to request a free quote today, call us at 256-910-7669.
Parking Garage Washing
Frequent vehicular and pedestrian traffic can cause mess and pollutants to quickly build up in your parking areas, and this accumulation is accelerated in enclosed spaces like parking garages. Our parking lot cleaning service isn't limited to just single flat-top services- we wash multi-level parking structures too. We can take on large-scale pressure washing jobs for big commercial properties, and parking garages are no exception.
Not only will our garage washing improve the space aesthetically and protect your parking deck from corrosive, damaging pollutants, but it can also improve the air quality by washing away dust, mold, and accumulated pollutants that can contribute to respiratory distress. Your visitors will benefit from a cleaner parking garage, too!
Additional Parking Lot Services
If you need additional help maintaining your facility's parking areas, we offer far more than just pressure washing. We have a dedicated roster of parking lot services with options for both protective maintenance and repair. If you need additional help with any of the following services, don't hesitate to give us a call.
Parking Lot Striping- If you're constructing a new parking lot or repainting an old one, the quality of the parking lot markings can make or break the project. With precision painting equipment and long-lasting, high-visibility paint, we'll ensure that your parking lot is well-designed and aesthetically appealing.
Asphalt Sealing: We offer sealcoating to give your asphalt a protective barrier against moisture and other destructive elements, as well as crack sealing for minor damage repairs.
Asphalt Patching: Got potholes? No problem. Our asphalt patching will close them up, secure your asphalt, and help it look good once more.
Call Your Local Hunstville Parking Lot Striping & Commercial Pressure Washing Experts Today!