Huntsville Dumpster Pad Cleaning Professionals To Maintain Your Business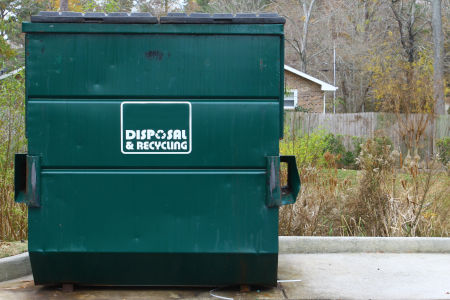 Dumpster pad cleaning should be a high priority for business owners throughout Huntsville. Though dumpsters serve an important purpose for your business, they also grow bacteria, produce foul smells, and attract dangerous pests. Don't put customers or staff at risk- rein in your dumpsters and maintain a sanitary workplace with our dumpster pad cleaning service.
AceCo Commercial Services Group strives to be a pressure washing team local business owners can rely on. We work hard to keep businesses and commercial properties in the Huntsville area safe, clean, and welcoming. If you need help maintaining sanitary dumpster areas, call and request a free quote for our dumpster pad cleaning today at 256-910-7669.
Dumpster Area Washing For Businesses & Commercial Properties
When waste remnants fall from or run out of the dumpsters and onto the concrete pad, they contaminate the concrete with oil, bacteria, mold, and other pollutants in your garbage. These substances can have corrosive, damaging effects on their own, contributing to rusting dumpsters and cracking concrete. Plus, when bacteria continue to grow, they start to create that distinctive "garbage" smell. Not only does this ward people off, but the smell, plus rotting food on the pad, can attract pests.
To prevent your dumpsters from falling into this state, we recommend a dumpster pad cleaning at least once every few months. We treat the concrete pad with degreasers and detergents designed to break down stains, kill mold and bacteria, and purge the concrete of contaminants. Our trained technicians are masters at thoroughly washing out dumpster areas efficiently to quickly restore them to normal standards. This results in better hygiene, better curb appeal, and a safer environment for your business.
Dumpster Pad Washing Is The Best Way To Keep Your Business At Its Best
Dumpster pad cleaning is far more than just a mere cosmetic service- it's a key part of maintaining a healthy business. Frequent dumpster pad cleaning is an excellent way to keep your business at its best. But that's not all that our pressure washing can do to enhance your business's safety standards.
If you operate a restaurant, bakery, or other business with a commercial kitchen, hood vent cleaning is also important for maintaining high safety standards. When grease builds up in a kitchen's hood ventilation system, it becomes a very serious fire hazard, as well as reducing air quality. By frequently washing grease out of your kitchen's hood vents, you can protect your staff and your property from a very serious fire hazard and maintain a thriving business.
For dumpster pad cleaning, hood vent cleaning, and more, we're here to bring your business what it needs. Call us today.
Call Your Local Hunstville Parking Lot Striping & Commercial Pressure Washing Experts Today!