Simplify Your Huntsville Building Maintenance With Expert Building Washing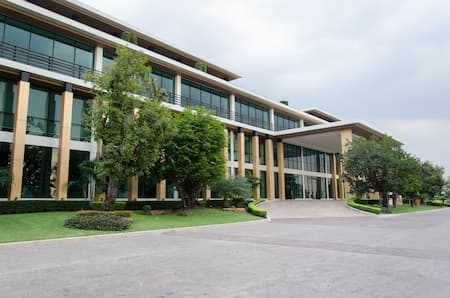 Building washing is an excellent way to keep your Huntsville business in fantastic, healthy, and eye-catching condition, and AceCo Commercial Services Group is committed to providing clients with the best building washing in the area. A clean building is a healthy building, and there's no better way to get dirty buildings clean fast than with top-quality pressure washing.
AceCo Commercial Services Group strives to set the standard for premier commercial pressure washing in Huntsville, and our building washing exemplifies some of what we do best as pressure washing pros. The results are immediately evident, and the good effects are long-lasting. If you're interested in our building washing service and want to request a free quote, give us a call at 256-910-7669.
Maintain Your Business Buildings With Exterior Business Surface Washing
Keeping your property healthy, safe, and enticing should be a high-priority goal for a business owner. This means treating the outside of your business like you do the inside and preventing it from becoming dirty and worn down.
Our pressure washing process uses a combination of tougher pressure washing and gentler soft washing to thoroughly and safely clean surfaces of all kinds. We use eco-friendly detergents to kill mold, algae, and bacteria for improved sanitation at concentrations that are still safe to use on delicate surfaces. When our process is complete, you'll marvel at how pristine your building looks!
While building washing is a major boost to your property's curb appeal and can prevent deterioration, our pressure washing is ideal for maintenance around other areas of your business. From dumpster pad cleaning to awning & canopy cleaning, our pressure washing will improve aesthetic appeal, prevent hazardous liabilities, and preserve your structure's longevity.
Business Building Washing Made Easy With Our Expert Help
Since many business owners choose to handle interior maintenance of their properties, it makes sense that some would prefer to handle exterior maintenance personally, too. However, with the level of precision and delicacy that pressure washing involves, especially when cleaning certain types of siding, building washing is a job that's best left to the professionals.
An untrained individual can make a lot of very simple mistakes that can lead to some pretty serious consequences, including both cosmetic and structural property damage. Plus, it's a time-consuming process! AceCo Commercial Services Group makes the process of keeping your property clean simple. Our expert technicians put their training and hard work into delivering consistently quick yet fantastic results with our pressure washing services. Rest assured; you can always expect efficient and high-quality work from us.
Call Your Local Hunstville Parking Lot Striping & Commercial Pressure Washing Experts Today!